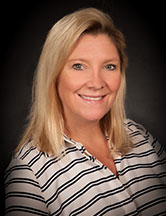 Jean B. Reynolds, Esq.
Jean Reynolds specializes her legal practice in the area of wills, trusts, and estates.  She focuses on helping clients with wills and trusts, estate planning, special needs planning, estate administration and litigation, elder law, business succession, and asset protection.   
Jean is a native of Chatham, Virginia, and received her B.A. degree in Biology from the University of Richmond in 1989.  After graduation, she managed Piedmont Finance Services, Inc., a privately held loan company, for ten years before returning to law school.  Jean received her J.D. degree from the Appalachian School of Law in 2003.
She is a member of the Virginia State Bar and is licensed to practice law in the Commonwealth of Virginia.  Jean is a past president and current board member of the Society of Financial Services Professionals - Richmond Chapter, a past board member of the Financial Planning Association of Central Virginia, and a member of the Estate Planning Council of Richmond. 
In addition to her professional affiliations, Jean also serves on the boards of Good Neighbor Village, a non-profit residential community for adults with mild to moderate intellectual disabilities, and Medical Home Plus, a non-profit support organization for children with special needs and their families in Virginia.   
   Practice Area
Wills and Trusts
Estate Planning
Special Needs Planning
Estate Administration and Litigation
Elder Law
Business Succession
Asset Protection
   Professional Affiliations
Estate Planning Council of Richmond
Society of Financial Services Professionals - Richmond Chapter
   Previous Experience
Of Counsel, Whitehead & Chiocca, PLC, Richmond, VA, 2009-2011
Associate, Legacy Law Group, Richmond, VA, 2006-2009
Of Counsel, Woods Rogers, PLC, Danville, VA, 2003-2006
   Education
Appalachian School of Law, J.D., 2003
University of Richmond, B.A., 1989
   Community Activities
Board Member, Good Neighbor Village
Board Member, Medical Home Plus